Marie Veronique Skincare Review
I'm so excited to finally share all of the products I've been using from Marie Veronique and Kristina Holey! After my interview with Marie, I wanted to dive deeper into the brand and share all of the wonderful products that I've been using for over six months! I hope you enjoy the video. Xx Mikaela
Watch my Marie Veronique Brand Review Video here!
I'm a huge fan of oil cleansing! I feel like I've been oil cleansing my face for my entire life. So I was really excited to try a micro-biome friendly option free of essential oils and fragrance. I always recommend giving skin a generous facial massage with an oil cleanser to tone muscles and relax tension in the jaw, neck and shoulders! You'll see the oil quickly break apart makeup (helpful on tired nights when you just want to get into bed!).
I press this toner into the skin just before applying serums and I can visibly see redness leaving my skin. It was on my shelf for a couple months before I started using it and you can imagine the look on my face when I saw such incredible results. This toner helps balance the PH levels on your skin. The ingredients have been formulated in a such a way that penetrates the deeper structure of the stratum corneum.
This is the first of the nightly serums I apply. The soothing B3 Serum is calming for skin containing 10% Niacinamide. The potent humectants reduce inflammation and help your skin retain its moisture. Sinks in seamlessly.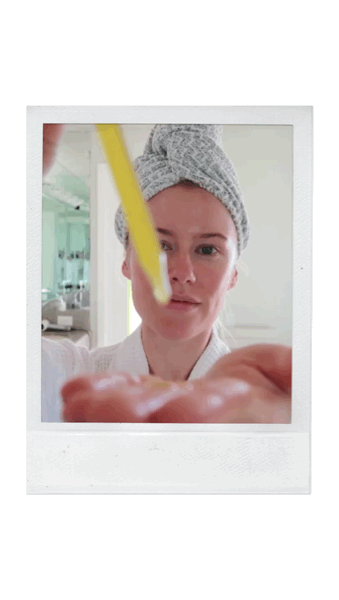 "YOUR
SKIN NEEDSFAT"
-MARIE VERONIQUE
This has been my go-to Vitamin C serum to wear during the day. Vitamin C is a powerful antioxidant that not only (when in this form) increases the effectiveness of your sunscreen, but it also brightens skin and helps to build collagen.
This is my second bottle of the Barrier Restore Serum! I use this as the last step to hydrate and balance moisture levels. This product works synergistically with your skin to correct and rebuild a strong, fully functioning skin barrier. It also helps reduce redness! If you're seeing a redness reducing, anti-inflamatory theme with this brand, then you're right on track!
Marie Veronique + Kristina Holey
When I need to minimize tight dry skin that's red, breaking out and inflammed from the weather, I reach for this mask! Investing in a mask like this will revive depleted skin, restore barrier function and stabilize skin so it's healthy and protected. I recently demonstrated how to apply this mask in my Skin Survivor Guide. You can watch the video here.
Lately, I've been really careful to not over exfoliate my skin. Marie goes into to more detail about why a gentle approach to exfoliation is important in my interview. This mask is great at dissolving rough skin build up without being to harsh.
Marie Veronique + Kristina Holey
A few nights a week and whenever my skin needs extra TLC, I use the Barrier Lipid Complex. As Marie explains in my interview, our skin needs fat (Yes, needs F-A-T!) and this serum provides the correct ratios of ceramides, cholesterol and fatty acids to assist in healthy barrier function. Skin will glow!
This is one of the few MV products that contains a small amount of essential oil. The scent is divine! If I use this oil, it has to be on a day when I'm not wearing any makeup. It leaves a slip on the skin and causes my makeup to come off easily.
I haven't noticed a difference from using the Gentle Retinol. I've used products containing retinol before, so I'm thinking that it might not be strong enough. I'm going to continue using it and see if I notice any changes.
Everyday Coverage Tinted Sunscreen SPF 30
I really wanted to love this product. Unfortunately, the tinted makeup didn't look smooth on the skin and it started to break apart during the day.